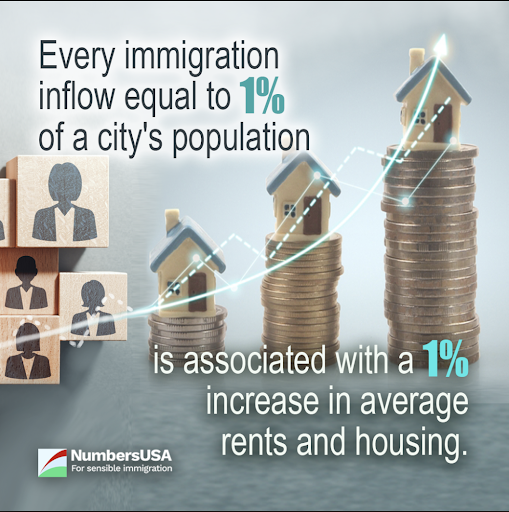 Given immigration's recent and projected contributions to U.S. population growth, immigration policy is an important factor that drives up housing prices and rents. According to a study published by the Urban Institute's Housing Matters Initiative, immigration causes a significant increase in home prices and rents in the metropolitan areas where migrants settle, and an even bigger increase in surrounding areas.
A surge in illegal immigration is worsening America's existing housing crisis, and is costing state and local governments (i.e., taxpayers) millions. Communities simply do not have enough affordable homes, enough shelter, or enough tax money to help everyone who needs it. Out of desperation, towns and cities have tried everything from paying for hotel rooms to converting school gymnasiums and giant tents into temporary shelters, along with support services. For example, tax-funded hotel stays can include three meals a day, weekly housekeeping, and toiletries.
Immigration at this level negatively affects the working-class more dramatically than higher income people because all workers with lower incomes are more likely to rent their homes. New York City is spending $383 per family per night on the migrant crisis, while proposing cuts to social services for vulnerable New Yorkers.
America experienced a record spike in homelessness from 2022 to 2023. Now state and municipal officials must also scramble to house many thousands of new migrants, while thousands more have no choice but to live out on the streets.
How big do we want to be?
NumbersUSA teamed up with Rasmussen Reports to poll Idaho likely voters. Why Idaho? No state has had a higher rate of population growth over the past five years than "The Gem State" – so named due to the abundant natural resources and beauty within Idaho's borders.
Idaho's rapid growth "may strike many economists, business boosters, politicians, and some Idaho residents as something to brag about," says NumbersUSA's Scientific Director Leon Kolankiewicz, "it implies economic prosperity, opportunity, and a sought-after quality of life that other Americans and foreigners alike can only envy, and are willing to 'vote with their feet' to seek out and attain."
But our polling finds that the overwhelming majority of Idahoans simply don't want to be a big, heavily populated state.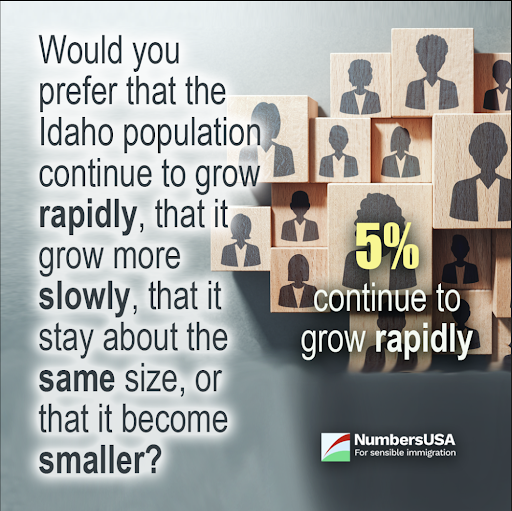 Idahoans are particularly concerned about losing cropland to development. The Gem State lost over a million acres of cropland over the most recent 35-year data period. Our upcoming study will demonstrate that 77% of that farmland and habitat loss was due to Idaho's increasing population, as more resources were diverted to urban development.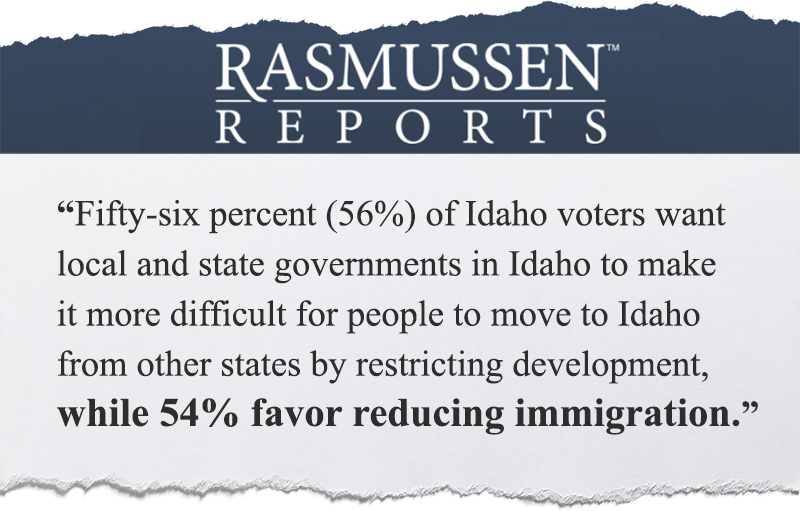 See Rasmussen's article, toplines, and crosstabs for more.
How would you like your water?
As immigration-driven population growth puts additional demand on our water resources, the question isn't whether or not we'll run out of water, but how will we put that water to use? Do we leave it in rivers and streams to support ecosystems, fishing, and recreation? Do we divert it to farms, or to expanding urban areas?
In an op-ed for the Wall Street Journal, representatives of the Kyle Center for Water Policy at Arizona State University argue for converting more farmland into developments (Idaho's farms aren't the only ones under threat), specifically because it would be a more efficient use of water and accommodate additional population growth.
NumbersUSA takes no position on that question, but our Arizona study found that only 7 percent of Arizonans support diverting water from agriculture to urban development, while a plurality would prefer to simply not add the projected 3 million more people by 2050.
How long can any county, state, or nation continue to convert farms into developments, eliminate arable land, and divert water away from agriculture without becoming dependent on other countries to grow the food that sustains us?
Without changes to immigration policy, expect more of these debates. As Mark Twain said, "Whiskey is for drinking, water is for fighting."
Quotables
"Now a major reassessment is underway of what these cities can reasonably be expected to provide to people who have just crossed the border in search of safety and a better life and whether efforts to house and support them will encourage more to come." – Farah Stockman, member of The New York Times editorial board.
"Only when we Americans see our country as having already overloaded national and global resources with too much demand, will we be able to reach across the aisle with a peace offering. Supporting border restrictions will favor not only our remaining wildlife, but also good wages, adequate welfare safety-nets, essential infrastructure, affordable and decent housing, and all things we hold dear." – Karen Shragg, naturalist.
Thank you for all that you do,
JEREMY BECK is a V.P., Deputy Director for NumbersUSA